Services.
UI & UX Design
We designing digital experiences & using design thinking methodologies to help our clients solve big problems and challenges.

/*UI DESIGN*/
User Experience Design is the process of development and improvement of quality interaction between a user and all facets of a company.
User Experience Design is responsible for being hands on with the process of research, testing, development, content, and prototyping to test for quality results.
Why is UI design important?
Firstly, good design means good business. The way you create interfaces for your product will tell how serious and professional your business is through every element such as color scheme, layout, tab, button, typography, etc. As a consequence, the website or app is able to gain a user's trust. Furthermore, businesses should execute this properly as no one notices a good visual but everybody will find out and criticize you if there is a tiny awful designed button!
Secondly, we can grab a user's attention easier with a beautiful interface rather than a badly designed on
Last but not least, since we are living in the world of Google, it's best to keep your users scroll through the page as long as possible for SEO purposes. That's why good UI matters. People will stay at your website when the content is cool, the experience is smooth and, especially the visual is pleasant to look at.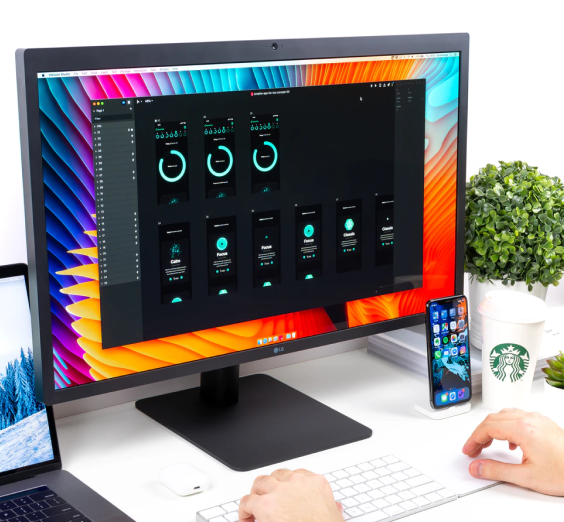 What do we do?
1. Design
As a UI designer, you have to draft screens, create visual touchpoints and interactivity. During this process, UI designers must maintain a consistent look for the whole product in terms of color scheme, icon style, typeface, etc. Next stop is a short to-do list for a UI designer:
▪️ Design layouts, screens, put design elements and visual patterns together.
▪️ Make the design responsive across platforms and devices.
▪️ Create or choose suitable design elements such as sliders, buttons, icons, color schemes, fonts, etc.
2. Collaboration
One can never accomplish a task alone. It works the same with web design: UI designers must closely cooperate with the client and the UX designers.
At the beginning of a project, we must study and do research on the product's domain business (eg, healthcare, financial, dating app, etc.) to understand the insight of their client and end-users as well as industry's trends and best practices.
Along with the client, UI designers need to figure out personas with UI designers, discuss with them the possible flow of the product, what a user would expect to be the next action.
And finally, when all the designs are done, UI designers will deliver the outcome to developers, support them if there are bugs and errors related to interfaces and the product's visual.
/*UX DESIGN*/
User Interface Design is responsible for the transference of a brand's strengths and visual assets to a product's interface as to best enhance the user's experience. User Interface Design is a process of visually guiding the user through a product's interface via interactive elements and across all sizes/platforms.
Websites, web applications, and desktop applications are systems, known as the concept of human-computer interaction (HCI). Human interaction with systems is what we called the user experience (UX).
UX is important because it aims to provide positive experiences that keep users loyal to the product or brand. With the rapid development of industry technology and methodology, websites and web applications are now more complex than before. The modern structure of static web pages have become so complicated, and some do greatly enhance the interactive design and experience.
Why is UX design important?
UX largely focus on the users' satisfaction and pleasure, it plays an important role in the business' success. From a business's point of view, it is essential to emphasize on the users' satisfaction in order to build the brand value and reputation of the business. If the users are surfing your websites or using your applications, it is yours and your developers' responsibility to navigate them to their predetermined target in the most efficient way. Hence, UX is an important element to consider during software or application development.
What do we do?
1. Product Research
Product research (including nature including market and user research) is each of our starting points for a UX design project. It provides the foundation for great design as it allows designers to avoid assumptions and make information-driven decisions.
2.Creating Personas and Scenarios
Based on the product research results, our next step is to identify key user groups and create representative personas. A persona is a fictitious identity that reflects one of the user groups for whom they are designing.
3. Information Architecture (IA)
We have done the research and created personas, it's time to define the Information Architecture. Information architecture is the creation of a structure for a website, app, or other product, that allows users to understand where they are, and where the information they want is in relation to their current position. Information architecture results in the creation of navigation, hierarchies and categorizations.
4.Creating Wireframes
Once the IA has been determined, it's time to create wireframes. Basically, a wireframe is a low fidelity representation of a design. Wireframes should represent each screen or step that a user might take while interacting with a product.
5. Prototyping
Prototypes give you a taste on how to interact with a product. With modern tools for prototyping like Adobe XD you can even record prototypes as videos to guide viewers through how your design functions.
Prototypes can be used to their full potential in user testing. Prototypes should allow the user to experience content and test the main interactions with the interface in a way similar to the final product.
6. Product Testing
Testing helps UX designers find out what problem users experience during the interaction with a product